Good King Wenceslas
Saint Wenceslaus I, Duke of Bohemia​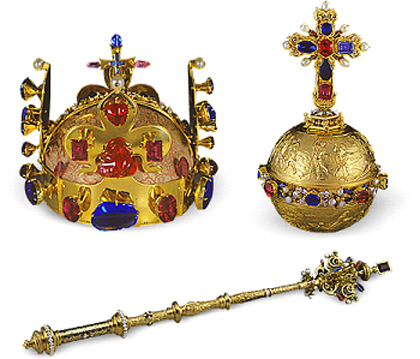 Royal Insignia of the Kingdom of Bohemia with the St. Wenceslas Crown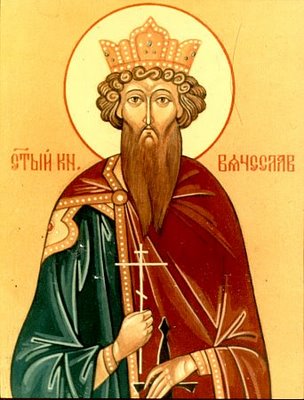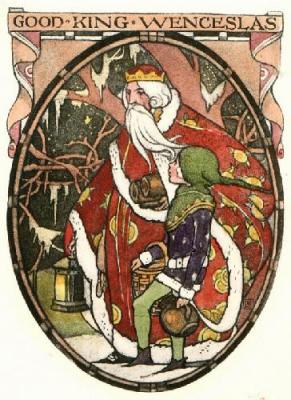 Good King Wenceslas looked out, on the Feast of Stephen,
When the snow lay round about, deep and crisp and even;
Brightly shone the moon that night, tho' the frost was cruel,
When a poor man came in sight, gath'ring winter fuel.

"Hither, page, and stand by me, if thou know'st it, telling,
Yonder peasant, who is he? Where and what his dwelling?"
"Sire, he lives a good league hence, underneath the mountain;
Right against the forest fence, by Saint Agnes' fountain."

"Bring me flesh, and bring me wine, bring me pine logs hither:
Thou and I will see him dine, when we bear them thither."
Page and monarch, forth they went, forth they went together;
Through the rude wind's wild lament and the bitter weather.

"Sire, the night is darker now, and the wind blows stronger;
Fails my heart, I know not how; I can go no longer."
"Mark my footsteps, good my page. Tread thou in them boldly
Thou shalt find the winter's rage freeze thy blood less coldly."

In his master's steps he trod, where the snow lay dinted;
Heat was in the very sod which the saint had printed.
Therefore, Christian men, be sure, wealth or rank possessing,
Ye who now will bless the poor, shall yourselves find blessing.
Duke Vratislav (also spelled Wratislaw) was born about 888, the son of Borziwoy I, Duke of Bohemia, and Ludmilla, heiress of Psov (later canonised, who is venerated as a patroness of Bohemia). He was the younger brother of Spitignew I, who succeeded their father as duke of Bohemia. Spitignew is remembered solely for his 895 alliance with Arnulf, Duke of Bavaria (the Diet of Augsburg), which separated Bohemia from Great Moravia. Designed to protect Bohemia against the ravages of Magyar raiders, this pact also opened Bohemia to East Frankish Carolingian culture and paved the way for the eventual triumph of Roman Catholicism in Czech spiritual affairs. Spitignew died in 915 and was succeeded by Wratislaw.
​
About 906 Wratislaw married Drahomira von Stodar. They had three sons and three daughters, of whom their son

Boleslaw (Anton's 33rd Great Grandfather)

would have progeny. Wratislaw died in battle against the Magyars. His date of death is generally given as 13 February 921.

He was succeeded by his 13-year-old son Wenceslas

(born in 907), (

Anton's 33rd Great Grand Uncle

) who ruled Bohemia from the age of 18 but was murdered in 935 by a group of nobles allied with his younger brother Boleslaw. King Wenceslas was canonized, and remains the patron saint of the Czech people.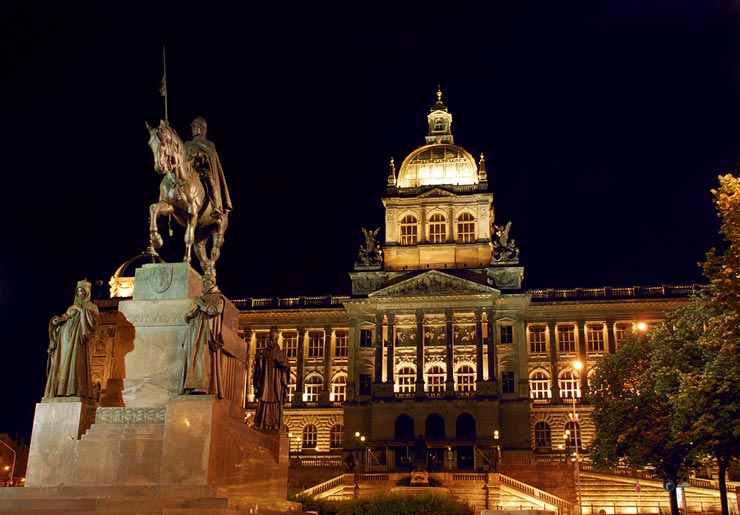 Statue of St. Wenceslas. Wenceslas Square, Prague