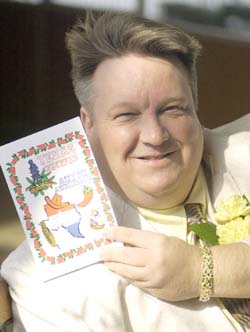 From the Detroit News

Texas cooking to raise funds for education

Collection of recipes to help Warren schools, space shuttle families

By Nicole Gainey / The Detroit News

Anton Anderssen's "Texas Recipes" features chili, brisket, barbecue, dessert and stew recipes. Proceeds will help community education programs and the Space Shuttle Children's Trust Fund.

WARREN -- Anton Anderssen is using his love for Texas and its food to help raise money for community educational programs and families of the space shuttle Columbia astronauts.

Anderssen, 42, is a community education instructor at Butcher Community School in the Warren Consolidated district. He compiled a 65-page book of award-winning recipes from Texas.

He developed his love for the way chili is cooked in Texas after visiting the state off and on for two years.

"I became fascinated with chili cook-offs and since I like food, I wanted to use them to support two groups I truly believe it," he said.

The book, "Texas Recipes," consists of recipes from world champion chili competitions, brisket, stew, barbecues and desserts. Proceeds from the book's sale will be used to further community educational programs in the school district and to the Space Shuttle Children's Trust Fund.

Anderssen said he would like the money to be used towards community education programs such as child safety, swimming and cardiopulmonary resuscitation classes at Butcher Community High.

Butcher Community Schools offers adult, enrichment, alternative and continuing educational programs.

The district has cut $8 million from its budget through the 2003-2004 school years, a reason Anderssen decided to donate the proceeds from his book. He said he has held several fund-raisers for the district in recent years.

Anderssen teaches enrichment classes at Butcher. He also trained in NASA's educational outreach program, where he developed a love for scientific learning.

"NASA gave the training I need to supply information to students, so I wanted to use this as an opportunity to give back," Anderssen said.

The space shuttle Columbia broke apart Feb. 1, killing the seven astronauts on board.

The cookbooks are available at Warren Consolidated Schools' Community Education Office, 27500 Cosgrove for $15, or by calling Anderssen at (586) 757-4177.