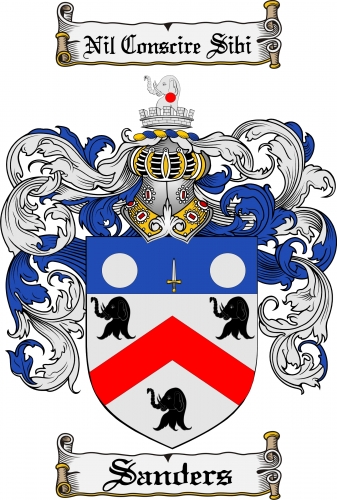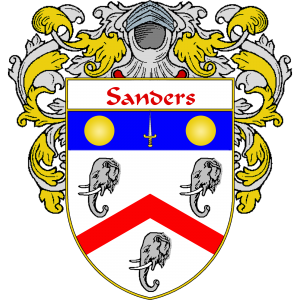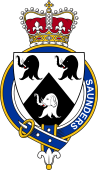 Irish: First found in county Wicklow where they were granted lands by Strongbow, Earl of Pembroke, for their assistance in the invasion of Ireland in 1172.

THE, SAUNDERS, SANDERS, SANDARS FAMILY AND ITS ROYAL BLOOD CONNECTIONS:

(Under the Sprig of Alexander (Alisaundre) the Great, from which the surname is derived and which came into existence during the thirteenth and fourteenth centuries)

1250 the family of ALEXANDER THE GREAT; spelt ALISAUNDRE-ALISANDER:

EUDO, married his first wife; Alice; daughter of Mathew "Duke of Lorraine"; descendents of the Counts of Hapsburgh and the Dukes of Zaringen and Teck.

Eudo and Alice had two sons: The eldest son was named Eudo, "Duke of Burgundy"and their second son "Alisaundre"(Alexander)"Lord of Montagu"

EUDO, "Duke of Burgundy" married Mary, the daughter of Count Theobald of Champagne; the GRANDSON of William the Conqueror; and BROTHER OF KING STEPHEN of England; Descendents from King Robert of France 1032, came to England during the reign of Henry III 1220.

EUDO, "Duke of Burgundy"; married Theresa, daughter of Alfonso DENIS, King of Portugal and Theresa's mother Beartice, daughter of William, Count of Challon. Eudo and Theresa's son was named EUDO; who married Elizabeth; daugher of Peter of Courtnay, Emperor of Constantinople, the son of King Louis VI of France.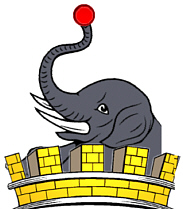 Crest: Out of a mural crown, an elephant's head charged with a torteau (cherry)